Wolfe Manor - Fresno
02/25/2012 10:31AM, Published by Nedal, Categories: Life+Leisure, Style, Entertainment, Today, Arts+Entertainment
---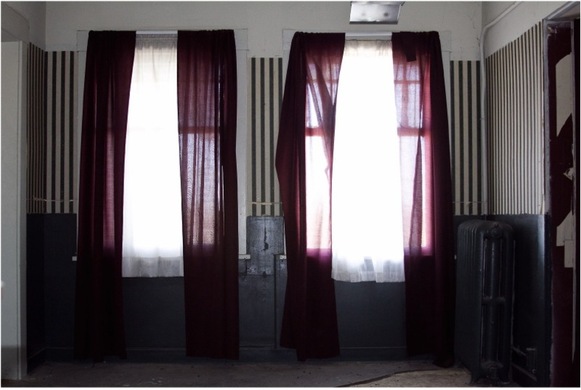 Wolfe Manor
---
Gallery: Wolfe Manor [10 Images] Click any image to expand.
---
The Making of a Haunted Hotel
By Stephanie Metzler | Photos by Jakob Smith
Located on Clovis Avenue, Wolfe Manor stands in all of its spooky, abandoned glory. For many that remember Wolfe Manor's Halloween haunted mansion tour and haunted hospital tour, you may soon look forward to seeing the creation of the luxurious Wolfe Manor Haunted Hotel. Well known for being a haunted spot, Wolfe Manor has been investigated by ghost hunters and mediums from around the country and has been featured on "My Ghost Story," "Ghost Hunters," "Ghost Adventures," and "Mystery Quest," bringing national attention to Clovis.
The Manor got its unwholesome reputation after years of being run and operated as a sanitarium and convalescent home where, at one point, death was a constant. In tatters now, with broken windows boarded up by plywood and surrounded by a chain link fence, the once opulent manor is now only a mere shadow of what it was.
Beginnings
Italian immigrant, Anthony Andriotti, originally built the mansion in 1922 as a private residence. It is likely that the house was built from a Magnolia Sears Home Kit that was brought over by train. This is indeed a possibility as the mansion is located very near to where the trains used to run. The construction of the mansion took both time and money to complete without any help from modern technology and tools.
According to Historian, Terry Campbell, Anthony Andriotti, who later changed his name to Anthony Andrews, built the lavish 8,000 square foot home in a desperate urge to "keep up with the Jones." "There were murals on the ceiling and the basement had a swimming pool," Campbell said. The mansion also included a magnificent ballroom and five bedrooms. The grandeur of the home proved to be beyond Andriotti's means and he became financially decimated soon after breaking ground.
The newly built home was lost in 1926, only four years after its original construction. The Andriotti story ends even more sadly when, at the age of 36, he died of cirrhosis of the liver, due to what family members recall as his problem of "always being with the bottle," Campbell found. His body was buried at The Holy Cross Cemetery off Belmont Street under his adopted name, Andrews.
From Private Residence to a Place of Death
In 1935 the mansion acquired new ownership and was transformed into the Hazelwood Sanitarium. The mansion was now a place to help treat people with terminal illness. During this time, many people died in the sanitarium of tuberculosis. Interestingly, both death and life occurred during this time. "People were born in there, there are birth certificates that prove this," Campbell said. In 1942 the mansion changed hands and became the Clovis Avenue Sanitarium and in the 1950s it became licensed by the Department of Mental Hygiene. "In 1954 a hospital wing was added to the house where they treated mental disorders," Campbell notes.
"There were rumors of patients laying in the hallways naked or being tied to a toilet or bed," Campbell said. "Also, at one time there were 20 patients to one nurse." There was so much overcrowding, that in every nook and cranny there was a bed. Talk of suicide and murder also surrounded the manor. "The basement was a temporary body storage where up to eight bodies would be stored until someone came to pick them up," Campbell said.
Granted, health standards were not as high as they are today. Still, those devastations are now considered a black spot on Clovis history. Moreover, many believe they are the cause for the paranormal activity which now occurs in the manor today. "Such a dark and tragic history lends itself to paranormal happening," Campbell said. In 1992 the Clovis Avenue Sanitarium was shut down and the manor closed indefinitely.
Scream if You Can
In 1996 the mansion took another shift when local entrepreneur, Todd Wolfe, transformed the residence into the infamous "Scream If You Can" haunted attraction location. The tours would take place every night for two and a half weeks surrounding Halloween. "When I first started, I just rented it for a Halloween attraction," Wolfe notes. Later, in 1997 he was offered to buy the property and Wolfe agreed.
Throughout the tour's seven years of operation, over 30,000 people, aiming for a Halloween scare, went through the manor each season. The attraction offered two tour options to purchase: the haunted mansion tour and the haunted hospital tour. With help from the Clovis East Drama Department, Wolfe created what would become the number one haunted attraction in California. Wolfe gave back to the community by using the profits to give charitable donations to the drama department at Clovis East high school.
Despite such a gloomy past, the manor was now surprisingly prospering as a Halloween attraction. Knowing nothing of the property which he now owned, Wolfe was disturbed to start experiencing that which could only be explained as paranormal experience. He began to feel he was not alone in the house saying, "Things started happening, but I didn't want to tell anybody. One time, I felt a breath of air on my neck and another I was touched on my lower back." Once a cast member of "Scream If You Can" was pulled backwards into an empty room, Wolfe could not deny what he already knew; Wolfe Manor was haunted.
Wolfe finally allowed a psychic into the home for an inspection and it was found that the manor was full of paranormal activity. Mediums and ghost hunters fled to Clovis for a closer inspection of what was now being called one of the most haunted spots in the western United States. The news that Wolfe Manor was a paranormal hot spot, instantly added more integrity to the Halloween-themed haunted house and gave a more genuine experience to the "Scream If You Can" patrons.
The screaming stopped in 2004 though, when "Scream If You Can" was forced to shut down. Later, Wolfe found that noise complaints from disgruntled neighbors were what caused the haunted tours to end. A defining blow to Todd Wolfe, he continued to try to get the city to change their mind and reopen the attraction.
"What I miss most about the haunted tours is not the money but my creative outlet. I had fun," Wolfe said. Letters from all over the country began trickling in saying how meaningful it was to tour the manor each Halloween. Many made it a yearly routine to drive to Clovis and enjoy the look and feel of a real haunted house. Clovis East's Drama Department also felt the hurt as they depended on Wolfe's donations to run many of their theater productions. Surrounding businesses missed out on the revenue increase around Halloween as well.
Interestingly, the intrigue of the manor did not die with the closing of these attractions. National acclaim came to Clovis and Wolfe Manor in September 2008 when "Ghost Hunters" took a tour of the mansion and, from the creepy noises and spirits they saw, they deemed the manor most definitely haunted. Then in January 2010 another nationally acclaimed show, "Ghost Adventures," made their way to Clovis to investigate the area. Crew leader, Zack Bagans, recorded spirits laughing and felt something grab hold of his neck.
That same year, Benjamin Radford of "Mystery Quest" did some experiments in Wolfe Manor and found some eerie results. In the basement, the area of the house which is thought of as the most haunted, caused Radford's ghost readers to sense heat anomalies that could not be explained. They believed it to be from a vortex from our world to another. Finally, in 2011, Todd Wolfe was featured in "My Ghost Story," where he shared the story of Mary, the spirit of a former patient who does not want to leave the manor. A psychic was able to communicate with Mary and find that she was adamant about the placement of her bed.
Even today, Wolfe's phone rings off the hook with calls coming from around the nation. People see the house on TV or on the Internet and want to come to Clovis to see for themselves the haunted manor. Wolfe Manor is no longer open to the public, but that may soon change.
The Re-Creation of Wolfe Manor: A Haunted Hotel
Recently, Zombie House Productions has teamed up with Todd Wolfe to construct the manor with the aesthetics of a haunted luxury hotel in a 1920s décor. The five-bedroom, four-story hotel will offer the chance for paranormal junkies to sleep among the spirits that once walked the very rooms they will be staying in. Wolfe believes that a haunted hotel will provide a once in a lifetime experience for those who are delighted by paranormal activity to have a chance to spend the night in a real life haunted hotel. Finally, all of those people who have been missing their Halloween fix, or those who constantly bombard Wolfe for a tour, can finally have a chance to see for themselves just how haunted Wolfe Manor is.
Moreover, there is hope for a new kind of tourism in small town Clovis. "When I heard of his plans for building a luxury hotel I thought it would be a good thing for Clovis," City Manager Robert Woolley said. "There is a big push for bringing tourism into the city of Clovis." Although not sure of where Wolfe is in the planning of the hotel, Woolley agrees that Wolfe Manor Luxury Hotel would bring a historical interest to people from all over the world.
When the hotel is completed, Todd Wolfe looks forward to creating bonds with other local businesses as a way of improving the city as a whole. "I love networking with local businesses," he said. With people flocking into Clovis to be a part of this destination trip, local restaurants and stores are bound to improve in revenue, making Clovis that much better of a city.
Ghostly Blessings
With blessings received from countless paranormal investigators, Wolfe feels comfortable moving forward with his plans for a haunted hotel and entertains the opportunity to shine a light on a portion of Clovis' history.
Whether a paranormal thrill-seeker or not, Wolfe Manor is certain to make even the biggest skeptic a true believer. "We don't know what happens when people die, that is for everyone's own personal belief, still, many believe that many that entered Wolfe Manor, still remain there today," Todd Wolfe said. "I don't understand it, but I respect what's here. Some people think it's evil, but I don't. I'm here to protect them and I respect whatever energy is here."
Currently there is talk of filming a reality show regarding Todd Wolfe and his Manor.
---
---
wolfe manor haunted clovis feature house
---
You might also like

Nonnie's House Boutique In December of 2003 Carmela Liberta and her daughter Maryellen Willis opened Nonnie's House Boutique in Downtown Clovis. The shop is named after Carmela who is known by her gr


---