Romantic Getaway in Oxnard, California
11/12/2012 10:10PM, Published by Melanie Warner, Categories: Life+Leisure, Today
---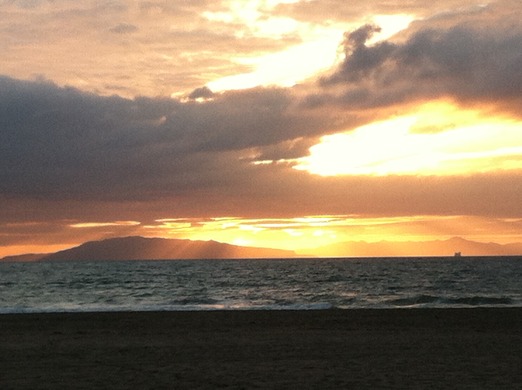 Breath-taking sunset on day one
---
Gallery: Things to do in Oxnard [8 Images] Click any image to expand.
---
I lived in Los Angeles for ten years, but never made it to Oxnard. I was thrilled when I had the opportunity to go check out this area for the first time. I wasn't sure what to expect. I thought it would be more industrial, but was pleasantly surprised at the warm and inviting, burgeoning travel experience that Oxnard has to offer. With its nautical themes and maritime feel right on the ocean, I was often reminded of other charming locations, like Kemah near the Gulf in Texas, or Marina Del Rey and Venice Beach in L.A. The view of Channel Island from the beach was so beautiful at sunset, we were practically moved to tears. The beach was empty, but far from lonely. I was also impressed with all of the local culture, art, talent, cuisine and history that is displayed and easily accessed in this town.
If you only have a short time to spend or are looking for a weekend getaway idea, here is a quick list of musts:
WHERE TO STAY?
We stayed at the Residence Inn in Oxnard. It has a modern design and can house long term business travelers, as well as weekend getaway crowds. It's also next to the Dallas Cowboys training camp, so they are used to long term visitors. Most of the rooms are more of a condo feel with full kitchens, upstairs and downstairs lofts, with 2 bedrooms and 2 bath units so they are great for traveling couples or families. There are stairs and no elevators, nor did they have concierge or bell hop service, but you can park close to your room and walk up to the door with both upstairs and downstairs units available. We chose to drive to the front desk for questions or free breakfast as it was an expansive property and was about a five minute walk from our room. We had a few issues where we tried to reach the front desk and could not get an answer. The atmosphere and décor were better than the food and service, but the prices were reasonable. www.OxnardResidenceInn.com
WHERE TO GO?
DAY 1
We started out with the Farmer's Market in downtown Oxnard that runs every Thursday from 9AM to 1PM. The vendors have such unique items as Mexican guava, cucumber cantaloupe and pure, raw sugar cane that was so big, it looks like oversized bamboo. The flowers are bright and colorful, including the rare coxcomb with a burst of fresh pink flowers from a long stem. There are also many food vendors with homemade tamales, zucchini and walnut bread, and many other delicacies that are worth a taste.
Next stop was Heritage Square which is nestled in historic downtown Oxnard. The square consists of a quaint collection of authentic Victorian era homes and buildings that were personally collected and actually moved to this area specifically to be preserved and revered. With fountains, gardens, a live theater house, a restaurant, winery and even a church on the premises, there is something for everyone. They also have many weddings, concerts, live events and a beautiful Christmas event every year.
Inside one of the homes that is now Rancho Ventavo Winery, we found many treasures, wine tasting, and a retail store (with fun wine items like a plaque that says "some call it a cocktail, for me it's a support group"). In the stairwell, you will find an original Tiffany lamp called 'fish hook' that is very rare and absolutely stunning. The history of this building is also interesting as the previous owner of the home had a neighbor who was her best friend. Both women lost their husbands on Valentine's Day of 1902. They remained in their homes for years after that, and then the homes were moved to the present site and have functioned as many businesses over the years. It is also rumored to be haunted.
For lunch, we strolled across the square to La Dolce Vita, where we were greeted by Michelle Kenney, Owner & Executive Chef who was brave enough to do a cooking class with us. She did most of the work, but we managed to make a mouth-watering Eggplant Caponata, Portobella Florentine and a Fennel and Orange Salad. La Dolce Vita is multiple stories, with a cozy basement bar, a main floor restaurant that is open for lunch and dinner, plus a third story that has private banquet rooms perfect for receptions, business meetings or cooking classes. The menu is a fusion of Italian and Mediterranean influences. The food and produce are locally produced and sourced, so they are fresh. The atmosphere is comfortable, inviting and definitely romantic.
We took a kayak tour with Channel Islands Kayak Center at the Channel Islands Harbor. Owner Mike Lamm gave us the full history & wildlife kayak tour. We experienced up close and personal mammal sightings, a pirate ship, sea caves, pirate skulls, aquatic wildlife, sea lions and even got to meet, Chippy, the only known Pygmy Mammoth in the world.
Hook's Landing has electric boats that you can drive yourselves for a leisurely tour of the channel and all of the beautiful homes and boat docks. They also offer large fishing vessels for overnight trips. When we were there, they were gearing up for a crab fishing adventure that evening. When I was driving, I realized that I was in a boat, with my friend Marianne, the weather started getting rough, on a three hour tour…..it wasn't looking good. But luckily, we had cell phones and were not too far out. But we wouldn't mind being rescued by the Professor. www.hookslanding.net
For dinner, we went to the Hollywood Beach Wine Company that was opened by single Mom, Lois Ivanoff, who has a love for food and wine. This small plate/tapas bar and restaurant is quickly becoming the "place to be" right on the water in the middle of the bustling pier.I relaxed on the couch that the staff refers to as the "make out" room loving on my Prosecco. They boast eclectic dishes like lobster, pancetta and avocado sliders or shrimp Mac and cheese, plus an extensive wine list with many wines by the glass for wine tastings and pairings. www.hollywoodbeachwineco.com
DAY 2
Channel Islands Maritime Museum (Ventura County) offers daily guided tours with beautiful views of the Harbour. John Stobart is the leading maritime artist living today. It's often said, if you look at his original paintings and can't feel sand beneath your toes, then you have no soul.
They also have the entire collection of Edward Marple. He was a dental technician who spent 30 years building nine ships carved from dental tools. This amazing collection features replicas of famous battleships with extraordinary detail.
Downtown Sol is a local boutique and gallery that features art, home products and gifts all handmade by local artists plus fair trade items from India, Mexico and other artisans. Everything in the store is made by artists, not manufacturing plants or chain stores. The store has innovative gifts and a fun vibe, while supporting local artists and craftsfolks. We loved these handmade coffee cozees for only $5.
Lunch was at Sugarbeets Restaurant and Bar. I'm not a huge beet fan, so I was a little afraid the menu would be all beets, but far from it. The potato crusted sea bass with Chipotle infused Tamarind Glaze was the best sea bass I've had in a long time. Others at the table said the same. Some days, I still crave it and am glad that it's only a short drive to Channel Island and Oxnard.
River Ridge Golf Club is located adjacent to the Residence Inn where we stayed. It was close and convenient with beautiful ocean and panoramic views with two eighteen hole courses. Originally designed by Billy Bell Jr. in the mid-1980s, the property has gone through several redesigns but is known for its low lying roughs, superb bent/poa annua greens, wide-open fairways with Greg Norman (GNI) hybrid bermuda and five lakes spanning the back nine holes.
Next, it was time to drink wine! We went to Herzog Wine Cellars, where we had a tour with Joseph Herzog, part of the seventh generation of wine makers in his family who immigrated from Czechoskalvia. He was not planning on being in the family business, but was so inspired by a Weinstock Contour Chardonnay 1999, that he decided to get into this business.
His other personal favorites include a 2000 alexander valley Cabernet, an Eagles landing 2010 pinot noir for $40, and a
2004 napa cab for $51. Great wine and great prices!
For dinner, we went to Tierra Sur, which is the restaurant inside Herzog Wine Cellars. It was exceptional. Everything we ate was like a foodgasm and was perfectly paired with wine (of course). The staff was attentive and really knew their wine. We tried everything I think. Ribeye steak, grilled beesteya sweetbreads, roasted red curry squash, figs, huckleberry gastrique, herb salad and lamb chorizo flatbread. The menu changes frequently, but it doesn't even matter because everything we tried was superior. This is absolutely a must visit location in Oxnard for food and wine.
www.tierrasuratherzog.com
Getting to Oxnard is easy.  It's only an hour from the LA area by car and about three and a half hours from Fresno (230 miles). The fastest way is to take the 99 south (that becomes the 5 south) towards Valencia and then take the 126 West just before Valencia and it will cross over the 101.
For more information:
Visit the Oxnard Convention & Visitors Bureau website: www.visitoxnard.com.  The toll-free visitor line is:  1-800-2-OXNARD.
---
---
---
wine oxnard golf travel food boating kayak
---
You might also like



---